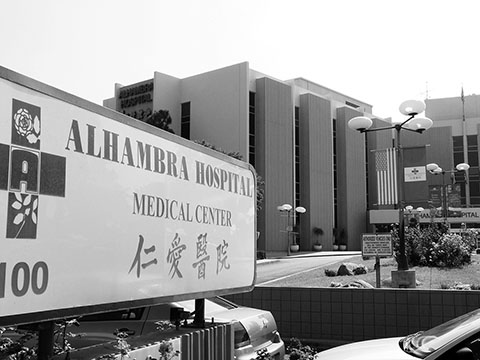 Our History
ALHAMBRA HOSPITAL MEDICAL CENTER

HISTORY

Alhambra Hospital Medical Center

is a 144-bed general acute care hospital that is fully accredited by the Joint Commission on Accreditation of Healthcare Organizations. The six-story building sits on 5.5 spacious acres in the business district of the City of

Alhambra

. The hospital was originally established in 1924 and moved to its current location in 1974. In 1998, following a change in ownership, the hospital's name was officially changed to

Alhambra Hospital Medical Center

.

Presently,

AHMC

employs over 600 employees, including 300 doctors representing 32 specialties - each of whom is committed to providing the optimal medical care to a highly diversified ethnic population.

Our Emergency Room is staffed 24 hours a day, 7 days a week, and we have several departments specifically designed to render appropriate care, including an Occupational Health Center, which is able to handle industrial injuries, as well as pre-employment physicals for local businesses.

We have a state-of-the-art Intensive / Coronary Care Unit, Subacute Unit and Acute Rehabilitation Center, and we offer unsurpassed services for out-patient surgery, radiology, laboratory, cardiopulmonary, and speech therapy.

We offer many services that are either free or that are provided at a nominal fee, including regular blood pressure screenings and health education seminars that are presented in both English and Mandarin. Free transportation is offered for patients living within a 10-mile radius and we offer a physician referral service by calling

(626) 4-HEALTH

.