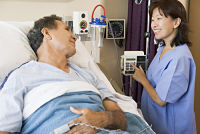 During Your Stay
Admission
Your physician, a member of the
Alhambra Hospital Medical Center
medical staff, scheduled your admission. During the admission process, paperwork is completed; copies are made of insurance cards; and explanations are given by the Admitting Representative. You will also receive an identification bracelet that must remain on your wrist throughout your stay. After the admission process is completed, you will be escorted to your room.
Belongings and Valuables
You should bring only those items with you to the hospital that are essential to your comfort. Please do not bring any valuables.
Alhambra Hospital Medical Center
is not liable for loss or damage to personal property. We recommend you leave your jewelry, credit cards, and money at home. In an emergency situation, the hospital can place your valuables in a safe in the cashier's office. If you choose to keep an article such as a wedding ring and are later asked to remove it, be sure to ask for a receipt. If you wear eyeglasses, dentures, or hearing aids, they should be kept in your bedside table when not in use. Please do not place them on your meal tray or in your bed, as they may be lost.
Medications
If you are taking any prescription or over-the-counter medications, please bring a list of these medications with you, as well as the times you are taking them. Also, please bring a list of your known allergies. Under no circumstances should you bring medications to the hospital. All the medications you require will be provided while you are a patient at
Alhambra Hospital Medical Center
.
Room Facilities/Services
A combined nurse call / TV control unit is provided for each patient's use.
Meal Services
Your doctor will prescribe a diet that meets your specific needs. You will receive a menu each day from which to select your breakfast, lunch and dinner. A dietician is available to discuss any special needs you may have.
Flowers and Mail
Flowers and mail will be delivered directly to your room. (Exception: ICU patients may not receive flowers due to space limitation.)
Smoking
AHMC
is a non-smoking facility.
Cellular Phones
Since patient care is our top priority, cellular phones and other handheld communication devices ARE NOT ALLOWED on hospital premises. These devices interfere with medical equipment.
Interpreter Services
Alhambra Hospital Medical Center
has personnel and volunteers readily available to serve as interpreters for non-English speaking patients and their families. If you have special needs, please inform your nurse.
Patient Relations
The Patient Relations Representative serves as a liaison between patients, their families, and
Alhambra Hospital Medical Center
personnel. The role of the Patient Relations Representative is to provide immediate and appropriate responses to any questions, concerns, special requests, or complaints you may have during your hospital stay. Your suggestions for improving patient care are most welcome. To reach the Patient Relations Representative, please call Extension 3227, Monday through Friday, 9:00 am to 5:00 pm, or ask the Hospital operator to page. A telephone message may also be left after 5:00 pm and on weekends. In the absence of the Patient Relations Representative, the House Supervisor will respond to your call if your need is immediate. To reach the House Supervisor, dial "0" and ask the operator to page the House Supervisor.
Patient Care and Safety
We encourage candid communication from our patients, families, and/or visitors to provide us with a valuable perspective. With the information we receive from those we serve, we are able to review our systems and processes, and make changes to improve upon the quality of patient care and services provided. If you have any concerns about the care received or any safety related issues while you or a loved one was a patient, please contact our Patient Relations Coordinator at (626) 570-1606, Ext. 3227; or submit your comments in writing and mail to Alhambra Hospital Medical Center at 100 S. Raymond Avenue, Alhambra, CA 91801 Attention: Patient Relations. If your concerns about patient care and/or safety have not been resolved through the hospital, you may contact the Joint Commission Office of Quality Monitoring by calling (800) 994-6610 or emailing HTTP://www.Jointcommission.org/GeneralPublic/Compliant.
Pastoral Care
Clergy of various faiths are available to visit patients at Alhambra Hospital Medical Center. If you would like to be visited or need assistance in calling your own clergy person, please contact your nurse or call the Patient Relations Representative at Ext. 3227.
Social Services
A social worker is available to assist you with discharge planning and other needs you may have following your stay in the hospital. If you would like to see the social worker, please inform your nurse.
Health Information Management
For more information on obtaining a copy of your medical records, or to reach the Health Information Management Department of Alhambra Hospital Medical Center, please contact us by phone at (626) 570-1606, Ext. 3212.
Patients and families can reach the Health Information Management Department 8:30 am to 5 pm Monday through Friday. Clinical staff can reach the department 24 hours a day.
Location:
The Health Information Management Department is on the Main Floor of the Hospital.