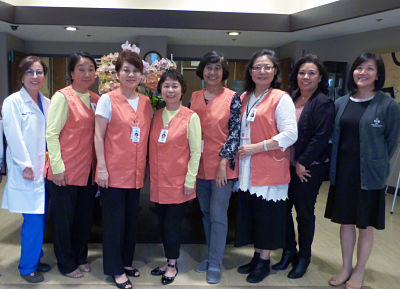 Patient Ambassador Program
Our Patient Ambassador Program is in collaboration with the Chinese American Coalition for Compassionate Care (CACCC) and the Patient Relations Department of Alhambra Hospital Medical Center. The Patient Ambassador Program provides our Chinese patients and their loved ones with culturally appropriate support.
Ambassadors who speak Mandarin, Cantonese and Taiwanese have been trained to serve as non-medical interpreters.
Their role is to:
Listen to the concerns of patients and their families.
Answer operational questions and provide information on hospital resources.
Sit with those who need additional support.
Provide clinical staff with insights that may otherwise go unnoticed.
To request a patient ambassador, select "Chinese" as the preferred language when you register at the hospital. You may also call the Patient Relations Department at 626-570-1606 Ext. 3227 to learn more about the program or to request a visit from a Patient Ambassador.
If you are interested in becoming a Patient Ambassador for Alhambra Hospital, please contact our Volunteer Office at (626) 458-4787.